Are you a therapist who feels stressed out and burnt out?   
Do you finding yourself  feeling exhausted and depleted at the end of the day?
Does it feel like your work is driven by your to-do list and not what you actually want to do?
If so, please know you are not alone.  But, it doesn't have to be that way.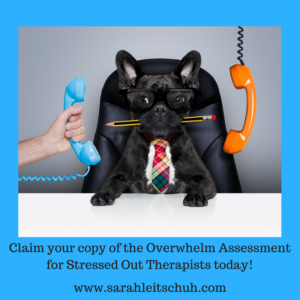 Often times, therapists feel so overwhelmed that they can't even figure out where to get started.  The Overwhelm Assessment for Stressed Out Therapists allows you take inventory of all the areas where you are feeling overwhelmed and develop an action plan to start reducing your sense of  overwhelm today.